Drawings above and below are samples from a few of our talented professional Caricature Artists.

Looking for a professional Caricature Artist, Face Painter, Glitter Tattoos or Henna Tattoo Artist for a children's birthday party, special family occasion, milestone birthday, anniversary, retirement, communion, graduation, barmitzvah, festival, holiday parties, grand opening, sweet 16 party, or corporate event in New Jersey? Hire the best Caricature Artists in NJ from Beauty & the Beast LLC - NJ Party Entertainment.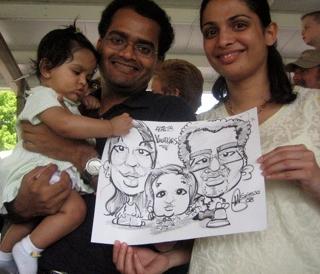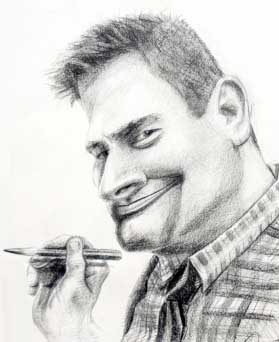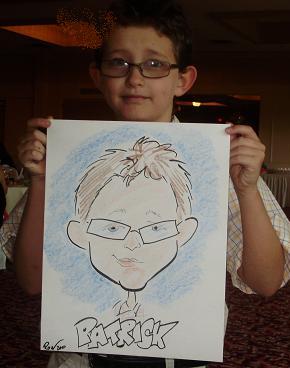 Our talented Caricaturists sketch amazing cartoon caricature portraits of your party guests, both children and adults. Entertain and humor guests of all ages, any occasion. Caricatures are a big hit at children's birthday parties, graduations, theme parties, sweet 16, retirements, quinceneras, christenings, communion parties, adult milestone birthday parties, anniversaries, holiday parties, Christmas theme caricatures, weddings, bar/bat mitzvahs, festivals, promotions, office parties, company picnics, and corporate events.
Caricature drawings make great party souvenirs for your party guests. Choose from black and white, partial or full color caricatures in 11"x14" or 12"x18" format, unless you have another special size in mind that we can accomodate for you. Choose from full body with detailed theme background of choice (about 10 poses per hour black & white), or quick head and shoulders caricatures (about 15 poses per hour black & white). Drawings come in a souvenir bag. If time allows, we offer a full color inked cartoon caricature likeness of the guest or child of honor. Lots of fun for your party guests or patrons. Caricature drawings make great party favor souvenirs.
Check our Entertainers webpage for links to our award-winning variety entertainment for children's and family parties, school and community programs, stage shows, and corporate events.
Serving northern NJ and central New Jersey. Our talented, professional Caricature Artists, Face Painters, and Henna Tattoo Artists book quickly, so call now for detailed descriptions of our Caricaturists for hire and caricature portrait package options at the most reasonable best prices:

(908) 236-7353